TY Hinnamnor made landfall in South Korea
Update: 5th of September, 11:00 p.m. UTC
Typhoon Hinnamnor made landfall on the southern coast, near the city of Geoje early Tuesday as Category 2 severe tropical storm causing flooding due to excessive rainfall and power outages.
Track the Hinnamnor typhoon directly on Windy with Hurricane Tracker LIVE ➡️ https://bit.ly/Hinnamnor-Windy
Hundreds of flights are grounded as the typhoon moves away from the Korean peninsula and weakens.
The maximum sustained winds are now 169 km/h strong, the storm continues to bring heavy rainfall and gusty winds.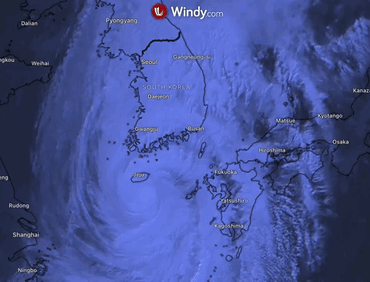 Update: 5th of September, 8:00 a.m. UTC
The Category 3 typhoon Hinnamnor is expected to approach the Kyushu region in western Japan from Monday evening through Tuesday morning while traveling northward over the East China Sea toward South Korea.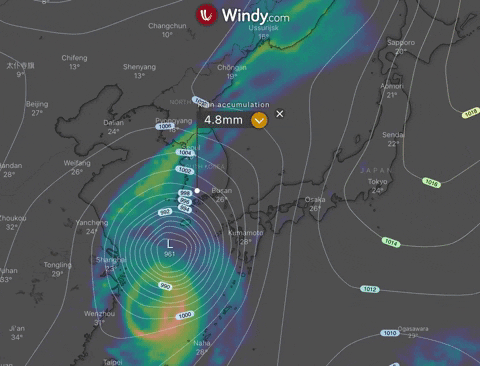 The typhoon is traveling at 25 km per hour with maximum sustained winds of 193 km/h and gusts of 240 km/h.
Hinnamnor is forecast to hit South Korea as Category 2 typhoon early Tuesday.
Threats
Rough seas with violent winds and heavy rainfall will come to northern and southern Kyushu. In the upcoming 24-hour period, the rainfall can reach 300 millimeters.
Warnings have been issued for high waves that could reach up to 12 meters in northern Kyushu and 10 meters in southern Kyushu. Landslides and flooding in low-lying areas may occur too.
Update: 4th of September, 11:00 a.m. UTC
The Hinnamnor typhoon starting to accelerate through the East China Sea now as a Category 3 storm.
Landfall is estimated to be near Busan in South Korea on Tuesday in the early morning hours. It is also expected to be one of the strongest storms to ever hit the country.
The slow-moving typhoon is moving with maximum sustained winds of 195 km/h. Eastern China and Japan are already preparing for the typhoon's impacts by suspending ferry services and flights on Sunday.
Update: 4th of September, 01:00 a.m. UTC`
Hinnamnor (now Ex-HENRY) has reintensified into a Category 2 strong typhoon. The maximum sustained winds are 169 km/h and gusts around 210 km/h.
The typhoon is expected to head north to South Korea and hit Jeju Island and Busan with life-threatening conditions.
Before arriving in the Korean Peninsula, it will also impact the South West Japan and China with devastating storm surges as the massive system progresses, starting from Sunday night to Tuesday.
Update: 3rd of September, 05:00 a.m. UTC
Tropical typhoon Hinnamnor (locally Henry) maintained the strength of a Category 1 storm in the last 24 hours with winds of 145 km/h.
It is now moving north at 12 kilometers per hour and bringing heavy to moderate rain to Metro Manila - Batanes, and Babuyan Islands; these conditions should prevail for most of Saturday.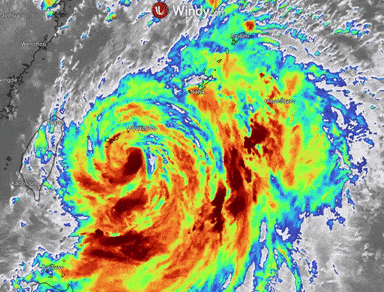 Many other areas are affected by the enhanced southwest monsoon.
The typhoon is expected to intensify back into at least category 2 intensity before impacting South Korea and Japan and gradually weakening. Landfall on the Korea Peninsula is predicted for Tuesday.
Update: 2nd of September, 01:00 p.m. UTC
Typhoon Hinnamnor (Henry) has further weakened into Category 1 on the Saffir-Simpson Hurricane Wind Scale during its stationary phase over the Philippine Sea. Maximum winds are 145 km/h.
It is heading toward the Korean Peninsula and Japan now while affecting the Philippines with severe storm surges, causing flooding. No injuries have been reported so far.
Going into the weekend, Hinnamnor can significantly re-strengthen and become a Category 3 typhoon before making landfall in South Korea on Tuesday next week.
The typhoon will approach Okinawa on Sunday and bring destructive winds with the power to destroy homes.
Update: 1st of September, 11:00 p.m. UTC
Hinnamnor (Henry) downgraded to Category 4 on early Friday, local time, with maximum sustained winds of 209 km/h and gusts around 278 km/h. It remains a very dangerous typhoon despite the downgrade.
The typhoon is almost stationary over the Philippine Sea as of now and is expected to remain like that during the Friday morning and then slowly head northwest in the afternoon.
Besides heavy rain, the typhoon will affect northern Luzon with strong winds; warnings have been issued for Batanes, Babuyan Islands, and northeastern part of mainland Cagayan (Santa Ana).
Update: 1st of September, 08:00 a.m. UTC
Hinnamnor (Henry) remains a powerful typhoon, currently peaking at Category 5 super typhoon status with maximum sustained winds of 257 km/h and gusts of about 313 km/h.
Meandering in the East China Sea, the storm has absorbed a tropical depression, locally named GardoPH, and completed an eyewall replacement cycle.
The storm is headed southward of Ryukyu Islands, where it is expected to make a re-approach, then move away to the south and gain force.
Hinnamnor will not make landfall in the Philippines, but will affect Northern Luzon with light to moderate rain, with at times heavy rain, in Batanes.
Heavy rainfall causing severe flooding and destructive winds will impact the Korean Peninsula later this week starting Sunday till Tuesday. It can also cause waves up to 15 meters high in the sea.
Residents should stay on high alert for gale-force winds and high waves. Gale Advisory is in effect for Ishigaki, Yonaguni, Daito, and Okinawa Islands.
Update: 31st of August, 08:00 p.m. UTC
Hinnamnor has entered the Philippine Area of Responsibility (PAR) as a Category 4 typhoon and has been given a local name Henry. Further strengthening to Category 5 may happen.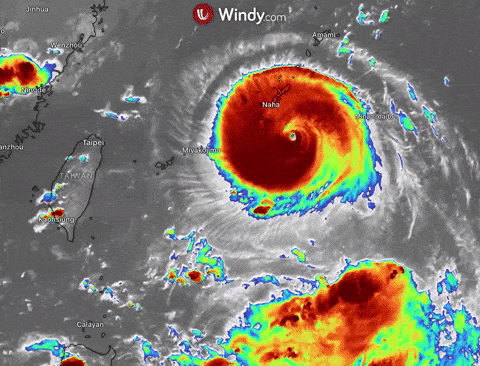 On Thursday local time, the typhoon reportedly had sustained winds of 185 km/h and estimated gusts of 265 km/h. As it moves across the South China Sea, Hinnamnor threatens the southern islands of Japan, Taiwan and China's east coast.
Strong winds, very strong rainfall, and extensive flooding remain serious threats.
Typhoon will most likely also enhance the currently ongoing tropical depression (locally referred to as GardoPH), bringing monsoon rains to western Luzon from Friday.
Update: 31st of August, 07:00 a.m. UTC
Super typhoon Hinnamnor is currently packing sustained winds of nearly 185 km/h with gusts of 275 km/h maintaining its Category 4 typhoon status, which makes it the strongest storm of the year so far with a well-defined eye.
Hinnamnor is heading west to the East China Sea while threatening the southern Japan islands, China's east coast, and the Philippines.
Currently, the storm is positioned approximately 230 km east of Japan's Okinawa and is expected to move west-southwest towards the Ryukyu Islands at a speed of 22km/h.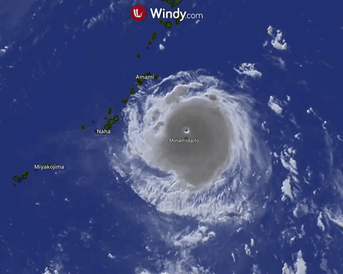 Violent winds, strong rainfall, and high waves of about 50 feet (15 meters) are expected to hit the region. Rainfall of about 180 millimeters in Okinawa is forecasted between Wednesday and Thursday. Severe conditions may cause houses to collapse.
Residents in the affected areas are urged to seek shelter when the conditions become too dangerous.
Update: 30th of August, 01:00 p.m. UTC
Typhoon Hinnamnor in the Western Pacific has rapidly strengthened in the last 24 hours. It has reached a Category 4 equivalent, making it a super typhoon with winds reaching up to 185 km/h (100 kts). Intensification to Category 5 is expected.
Hinnamnor is currently located south of Japan, advancing west over the seas to the south of Japan at 35 km/h.
According to the latest forecast, the typhoon may come close to the Okinawa prefecture and Amami region on Wednesday and have the power to destroy homes, especially in the Daitojima region in Okinawa Prefecture.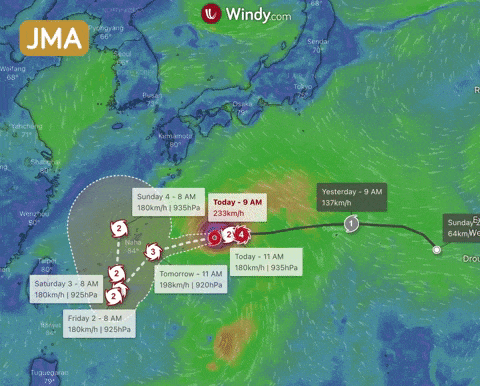 Threats
Typhoon Hinnamnor may have the strength to topple homes. Residents should be on high alert for very strong winds, mudslides, high waves, and flooding of low-lying areas.
Hinnamnor can also bring rough seas over the northern and eastern Luzon, Philippines starting Thursday or early Friday.
https://www.windy.com/-Satellite-satellite?satellite,24.295,118.276,5,internal
posted in Articles
cyclone
hinnamnor
japan
article