Biparjoy approaches the India-Pakistan border region
Update: 15th of June, 10:00 pm UTC
Cyclone Biparjoy, a powerful storm, has begun to make landfall in north-west India and southern Pakistan, causing heavy rains and gale-force winds. The cyclone, whose name means "disaster" in Bengali, is predicted to be the worst storm in the region in 25 years, threatening homes, crops, and lives.
Cyclone's trajectories are based on 4 different weather models
More than 170,000 people in both countries were evacuated to safety ahead of the cyclone's arrival. The storm is expected to pass through India's Gujarat state and Sindh province in Pakistan, hitting the coast near Jakhau port, between Mandvi in Gujarat and Keti Bandar in Sindh.
Pakistan's disaster management agency has warned of storm surges as high as 3-4m along the coastline from Karachi to Gujarat. Despite a reduction in the cyclone's intensity, wind speeds are still expected to reach "very dangerous" levels of around 110-125 km/h at the time of landfall. The India Meteorological Department expects Biparjoy to "fall in intensity" as it moves inland
Update: 14th of June, 9:00 am UTC
The category 2 Cyclone Biparjoy is approaching the India-Pakistan border region, bringing potential floods and power disruptions in its wake. Landfall predicted on Thursday in Gurajat.
The coastal regions of Gujarat are on high alert as the Indian Meteorological Department (IMD) warns of an impending storm surge due to the formidable cyclonic storm Biparjoy. Despite a slight decrease in its intensity, the cyclone is anticipated to regain strength, potentially causing widespread destruction in Gujarat through massive storm surges. The IMD has raised a red alert for the coasts of Saurashtra and Kutch, with the cyclone predicted to hit land between Mandvi in Gujarat and Karachi, a port city in Pakistan, on June 15.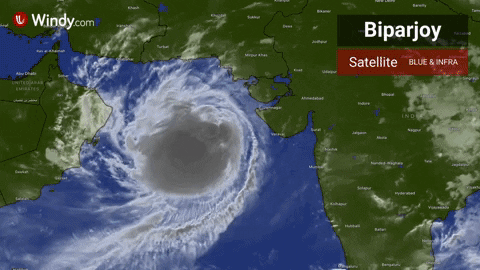 The cyclone's impact is expected to be severe, with complete destruction of thatched houses and significant damage to kutcha houses in various districts, including Kachchh, Devbhumi Dwarka, Porbandar, Jamnagar, Morbi, Junagarh, and Rajkot. The storm also poses a threat to infrastructure, with the potential to topple power and communication poles, disrupt railway services, and cause harm to crops and orchards.
The cyclone is forecasted to bring a range of rainfall intensities to Gujarat's coastal areas, from light to moderate, with isolated places experiencing heavy to extremely heavy downpours. The intensity of rainfall is expected to escalate on June 15.
In anticipation of the cyclone, approximately 95 train services that run through, originate from, or terminate in Gujarat's coastal areas have been cancelled or will be short-terminated until June 15.
https://www.windy.com/-Hurricane-tracker/hurricanes/biparjoy?19.658,56.406,5,i:pressure,internal
posted in Articles
article
cyclone
biparjoy
india
gurajat