Amphan continues to weaken
Update: 21st of May, 8:00 a.m. UTC
After hammering India and Bangladesh, Amphan is forecasted to move north-northeastward and weaken into a depression later today. The maximum sustainable winds, which may be carried by the storm, are 50 km/h (27 KT).
Thunderstorms with gusty winds are likely to occur over Bihar and isolated places such as Assam, Arunachal Pradesh and Meghalaya.
Due to the correct timing of rescue teams deployment, there is a minimum human loss.
The worst damages has been concentrated in the West Bangal districts and Sunderbans, which suffered immense destruction.
Update: 20th of May, 4:00 p.m. UTC
The super cyclone Amphan hits India and Bangladesh with its landfall between Indian town of Digha and Hatiya Islands in Bangladesh. Storm is dumping heavy rain and damaging winds on Kolkata leaving a trails of destruction. Reported damages are destroyed houses, power cuts and downed trees.
Cyclone is now moving at 31km/h (17 KT) near 22.2N 88.3E, roughly 25 NM from Kolkata with maximum sustainable winds 138 km/h (75 KT) and gusts 166 km/h (90 KT).
Amphan will move north-northeasterly passing trough the Sunderbans and gradually weaken.
Update: 20th of May, 8:00 a.m. UTC
TC Amphan was moving at 25 km/h (14 KT) near 20.5N 87.9E approximately 129 NM South-Southwest of Kolkata in the last 6 hours. Maximum sustained winds were 157 km/h (85 KT) and gusts 194 km/h (105 KT), which makes it a Category 2 Atlantic hurricane and the strongest storm ever recorded in the Bay of Bengal.
Anticipated landfall still remains for Wednesday evening hours local time (5:30 pm Wednesday IST) near or just east of Hooghly River south of Kolkata.
Impacts
Cyclone could bring very strong storm surges up to 5 meters (16.4 feet), causing roadblocks, power link outages and destruction of houses and crops.
Evacuation of people continues, but a pandemic situation puts a great stress on the whole operation as it became difficult to maintain social distancing.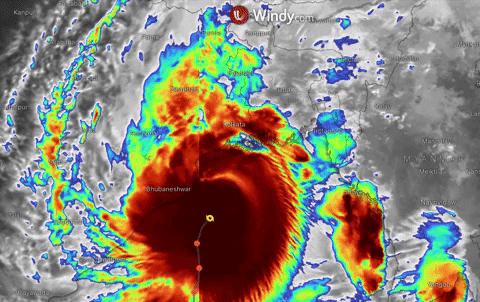 Update: 19th of May, 02:00 p.m. UTC
Super cyclone Amphan has been already marked as extremely intense in the region and the second strongest storm since 1999. Cyclone is due to make the landfall into West Bengal, Digha and Hatiya Island in Bangladesh during Wednesday morning.
In the last 6 hours, cyclone was moving 16 km/h (09 knots), located at 17.0N 86.9E, 377 NM South-Southwest of Kolkata, India with maximum sustainable winds 203 km/h (110 KT), gusts 250 km/h (135 KT).
Impacts
Storm is expected to weaken before the landfall, but the results could be still devastating with heavy rainfall and tidal waves causing flooding and strong winds resulting in significant physical damage.
Update: 19th of May, 00:00 a.m. UTC
Amphan has strengthened to a Category 5 hurricane, its position is approximately 480 NM south-southwest of Kolkata, India - 15.2N 86.6E, the current movement has been at 14 km/h (08 knots) in the past 6 hours.
The maximum sustained winds are 240.76 km/h (130 KT) and gusts 296.32 km/h (160 KT). The landing will be likely between Kolkata, India, and Chittagong, Bangladesh on Wednesday afternoon or evening. Cyclone is expected to be a hurricane Category 3, when it makes the landfall.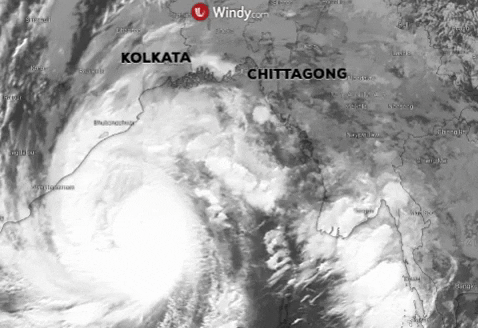 There are already signs of eyewall replacements, which could halt the Amphan's further intensifying. However even if the winds weaken, the real dangers is going to be a potential catastrophic storm surge up to 4–6 meters (13–20 feet).
Update: 18th of May, 12:00 a.m. UTC
TC Amphan is moving near 13.6N 86.4E with maximum sustainable winds 259 km/h (140 KT) and gusts 314 km/h (170 KT).
The cyclone is expected to hit Odisha states and West Bengal on Wednesday noon local time as a super cyclonic storm. Amphan will gain strength in the next 12 hours, but could weaken as it reaches the coasts.
Odisha state is already evacuating citizens to a cyclone shelters, more than a milion people is planned to be evacuated from coastal areas.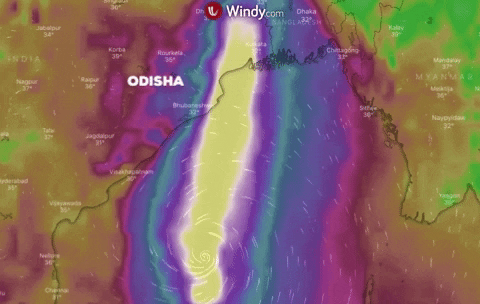 Update: 17th of May, 4:00 p.m. UTC
Tropical cyclone Amphan is currently strengthening in the Bay of Bengal near position 12.0N 86.4E with maximum sustainable winds 138 km/h (075 KT) and gusts 166 km/h (090 KT).
At the moment the cyclone is a category 1 on a hurricane scale and could likely become a hurricane category 3, when it reaches coasts in the northeast. The landfall is predicted to occur from Tuesday night through Wednesday.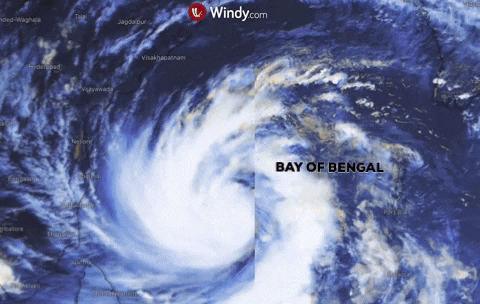 The movement for next 12 hours is forecasted to be near 13.1N 86.5E and winds 157 km/h (085 KT), gusts 194 km/h (105 KT).
Impacts
Amphan will bring a strong winds and heavy rainfall, causing dangerous flooding with a possibility of a storm surge for vulnerable areas, especially for Bangladesh.
https://www.windy.com/upload/5ec16efe6d85e3001d6ecd01?satellite,20.108,85.761,6,internal
posted in Articles