Cristobal weakens into a Post-Tropical Cyclone
Update: 10th of June, 7:00 A.M. UTC
Post-Tropical Cyclone Cristobal has made its way northward, across Arkansas, Missouri, Iowa, and now located in Wisconsin, 43.5N 90.4W. Maximum sustainable winds are 55 km/h (30 knots) with movement 50 km/h (27 knots).
The expected motion is toward Lake Superior and then to Ontario, Canada.
Flash Flood Watch is now in effect for parts of the Midwest and western Great lakes due to rainfall. Winds gusting over 72 km/h (39 knots) on Wednesday over Chicagoland and areas neighboring with western Great Lakes.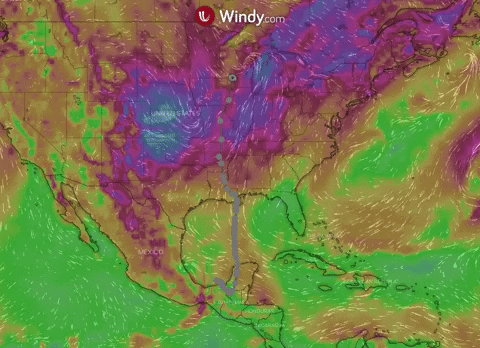 Update: 9th of June, 7:00 A.M. UTC
Tropical depression Cristobal is moving across Central Arkansas, located at 34.8N 92.4W.
With maximum sustained wind speed 45 km/h (24 knots), it's moving toward the north-northwest near 28 km/h (15 knots). It is expected to accelerate over the next 48 hours, transitioning Cristobal into an extratropical cyclone.
Gusty winds are expected on Tuesday night and Wednesday over parts of the Midwest and western Great Lakes. Heavy rainfall will spread from Arkansas to the western Great Lakes through Wednesday morning.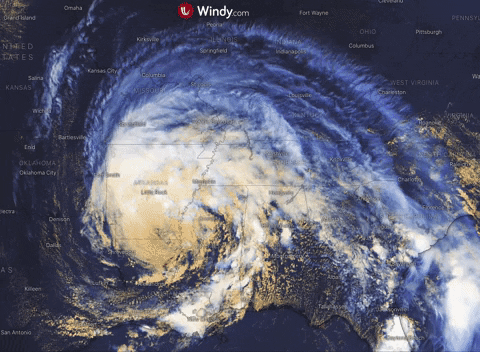 Update: 8th of June, 3:00 P.M. UTC
Tropical depression Cristobal with a position at 32.5N 91.8W continues to push heavy rains with gusty winds on central Gulf to Lower Mississippi Waley. Maximum sustainable winds are 55 km/h (30 KT), movement is 24 km/h (13 KT).
It is expected to bring flooding rain to areas, where heavier rains occur, strong winds with possible isolated tornadoes as it moves from South to the Midwest till Tuesday.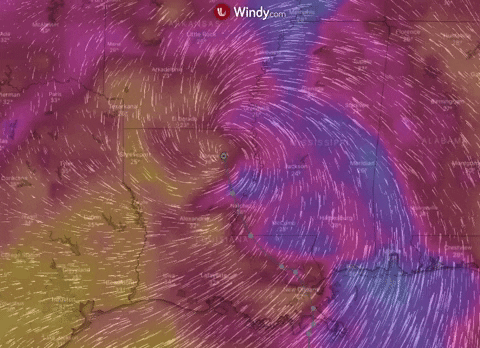 Update: 8th of June, 7:00 A.M. UTC
Cristobal reached the coasts on Sunday evening and hit the southern Louisiana with maximum sustainable winds 80 km/h (43 KT) and heavy rains 12 inches (30 cm).
The storm also caused spawning a tornado in Florida. The landfall was between the mouth of the Mississippi river and island resort of Grand Isle.
Storm is now moving further inland, the threats of heavy rainfall and surge flooding still remains active for Monday as well. Remnants are expected to move northward into the upper Midwest with heavy rain and gusty winds.
Winds have weakened slightly to 72 km/h (39 KT) over the past several hours and this should continue as it moves farther inland.
Update: 7th of June, 3:00 P.M. UTC
Storm Cristobal with maximum sustainable winds 83 km/h (45 KT) will arrive to Gulf Coast today, storm has been travelling at speed of 18 km/h (10 KT).
Warnings for tropical storm and storm surge have been issued already, the threat is heavy rainfall, surge flooding, gusty winds and tornadoes. Tornado watch is issued for the southern Mississippi and southern Alabama.
Storm surges warnings are active for areas from Mississippi River east to Ocean Springs, Mississippi.
Mentioned conditions are expected to preserve till Monday as the storm lingers along the northern Gulf Coast.
Update: 4th of June, 1:00 P.M. UTC
Tropical storm Cristobal is currently located at 17.8N 91.2W, maximum sustained winds decreased to 65 km/h (35 knots). It continues to move slowly inland and is forecasted to re-emerge over the southern Gulf of Mexico on Friday and move northward over the central and northern Gulf of Mexico.
As it will re-encounter a warm ocean surface, it will restrengthen and accelerate northward over the weekend and reach the Gulf Coast of the United States by Sunday evening.
Cristobal made its landfall over 24 hours ago. It has brought damaging and deadly flooding and is expected to produce additional extreme rainfall amounts over southern Mexico and part of the Yucatan Peninsula and extending along the Pacific coast.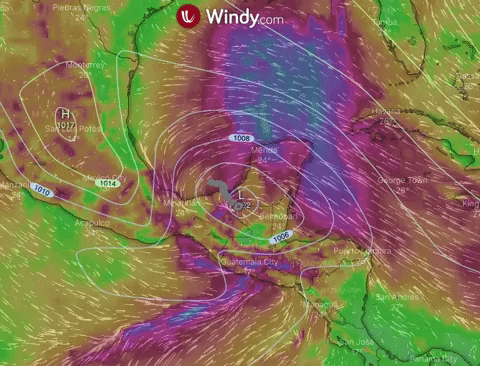 Update: 3rd of June, 10:00 A.M UTC
Tropical storm Cristobal which has formed in the southwestern Gulf of Mexico, 19.0N 92.1W, is moving with a pace of 2 knots with maximum sustained wind speed 92,7 km/h (50 knots) and gusts 111,2 km/h (60 knots).
The storm stays in the vicinity of the southwestern Gulf of Mexico for the next few days. It will weaken to a tropical depression on Thursday and intensify to a tropical storm near 19.6N 91.1W on Friday and is expected to move slowly to the U. S. Gulf Coast later this weekend.
Cristobal is a part of a larger Central American Gyre circulation and is expected to continue to bring heavy rainfall to parts of southern Mexico, Guatemala, Honduras, and El Salvador which could bring life-threatening flooding and mudslides.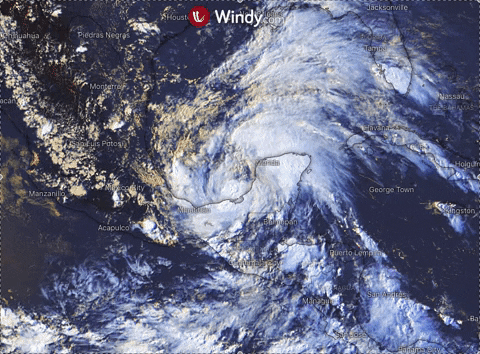 https://www.windy.com/-Satellite-satellite?satellite,48.807,-91.055,5,internal
posted in Articles