TC Gombe made landfall
Update March 11th 2022, 11:00 a.m. UTC
Gombe made landfall as an intense tropical cyclone (Category 3 equivalent) with devastating winds, heavy rainfall and storm surge.
After landfall, winds have weakened to 84 km/h, but rainfall still remains a significant threat as it may result in flooding in Mozambique and southern Malawi for several days
Update March 10th 2022, 11:00 p.m. UTC
Cyclone Gombe has intensified and currently approaching landfall between Angoche and Isle of Mozambique. Maximum sustainable winds are 148 km/h.
Tropical cyclone is located approximately 15.9S 41.4E, while producing significant wave heights near the northern coast of Mozambique.
Gombe may continue to strengthen right up until landfall. Dangerous storm surge, flooding and damaging winds are likely as the system comes closer to the coast.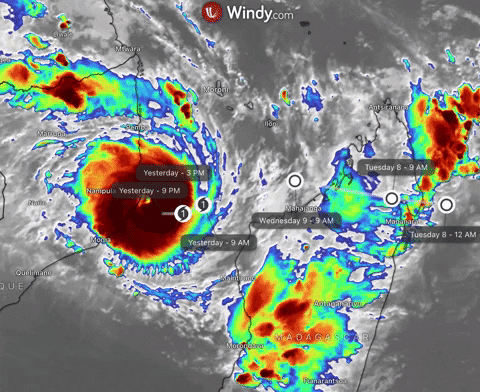 Update March 10th 2022, 10.30 a.m. UTC
Tropical Cyclone Gombe, currently located near 15.6S 42.8E, has moved over Madagascar as a tropical storm. The system has intensified over the water to a Tropical Cyclone category 1 with the intensity of 65 knots (120 km/h), heading towards the west at 8 knots (15 km/h).
Gombe is forecasted to slow down as it makes landfall and moves over Mozambique. It is expected that the system will intensify prior to landfall and rapidly weaken as it will move over the land.
It is likely that Gombe will bring significant and destructive flooding.
https://www.windy.com/-Wind-accumulation-gustAccu?gustAccu,-17.947,35.409,6,internal
posted in Articles