Weakened Goni slowly moves toward Vietnam
Update: 4th of November, 10:30 p.m. UTC
Tropical Storm Goni (Rolly), located near 14.4N 113.3E, east-southeast of Da Nang, Vietnam is moving slowly across the South China Sea toward Vietnam, near 8 km/h (4 knots).
Maximum sustained winds are 65 km/h (35 knots).
Over the next couple of days, Goni is expected to move west-southwestward and make landfall along the south-central Vietnam coast as a tropical depression later on Friday.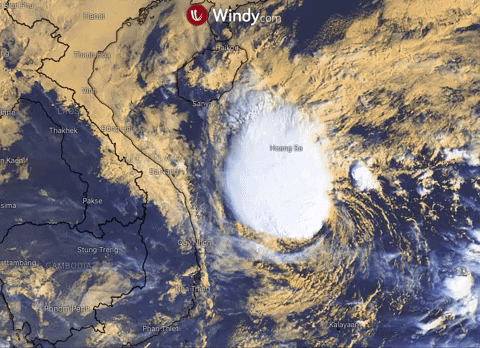 Now a tropical storm Goni (Rolly) is located near 14.7N 119.5E in the West Philippine Sea with maximum winds 101 km/h (55 KT). Storm has been tracking west-northwestward in the last 6 hours.
As Goni further weakens, it is expected to leave the Philippine Area of Responsibility on Tuesday morning
Update: 1st of November, 10:00 a.m. UTC
After landfall over the eastern coast of Catanduanes, Goni continues its movement toward the west-southwest. The second landfall is expected over southern Vietnam near Qui Nohn.
Goni has weakened significantly since the landfall but still is a powerful and life-threatening cyclone. It is expected that the system will continue to weaken primarily due to land interaction and is expected to emerge over the South China Sea with maximum one-minute-sustained winds 165 km/h (90 knots) during the late evening hours on Sunday.
Although Goni will weaken rapidly over the terrain of southern Indochina, heavy rainfall will affect ongoing flooding in central Vietnam.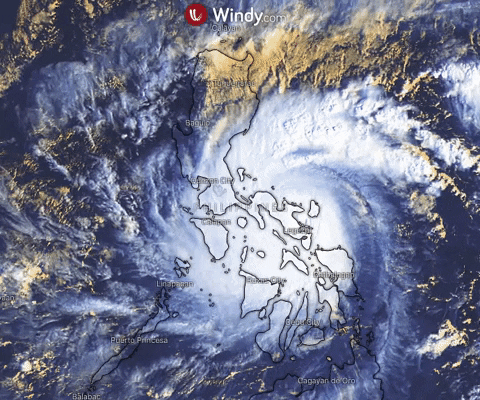 Update: 31th of October, 11:00 p.m. UTC
Goni has made landfall on Catanduanes island on Sunday at 04:50 local time as equivalent to a Category 5 hurricane with maximum sustainable winds of 314 km/h and even higher gusts.
The storm is now making a second landfall over the Bicol Region, specifically over Albay and Camarines Sur provinces.
Expected threats are destructive typhoon winds, life-threatening storm surges and heavy rainfall, causing landslides and flooding.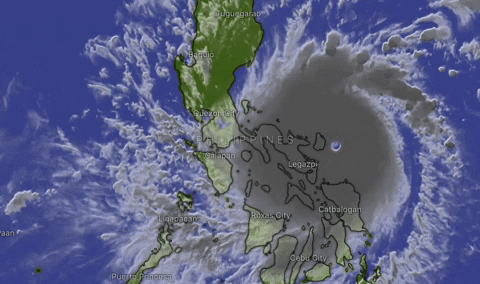 Update: 31th of October, 1:00 p.m. UTC
Super typhoon Goni (Rolly), located 14.7N 127.6E, east of Manila, Philippines, has tracked west-southwestward at 24 km/h (13 knots).
The system will continue its current tract then slightly weaken and head westward and make landfall over central Luzon on early Sunday, then track over Manila, and exit into the South China Sea.
The second and final landfall is expected over central Vietnam, south of Da Nang.
Maximum sustained winds are 287 km/h (155 kt) with gusts 352 km/h (190 kt).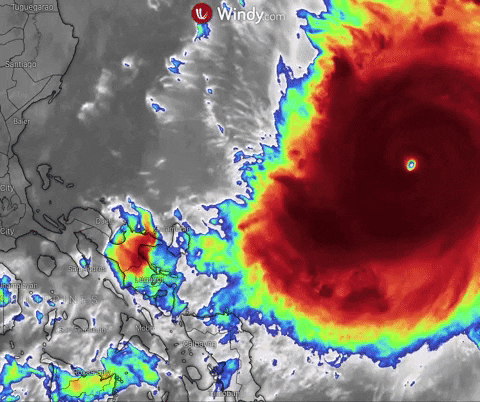 Update: 30th of October, 10:00 p.m. UTC
Goni (Rolly) has yet again intensified and the maximum winds are peaking at 287 km/h (155 KT) and gusts 351 km/h (190 KT).
Typhoon maintains its Category 5 and is predicted to track westward and make landfall on early Sunday in central Luzon, northeast of Manila. However Goni should weaken to Cat. 4 before the landfall.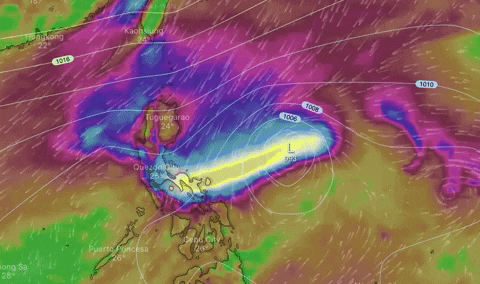 Update: 30th of October, 10:30 a.m. UTC
Goni has undergone a rapid intensification in the last hours. The storm has maximum winds of 277 km/h (150 KT) with even higher gusts, making Goni the Earth's strongest storm of the year.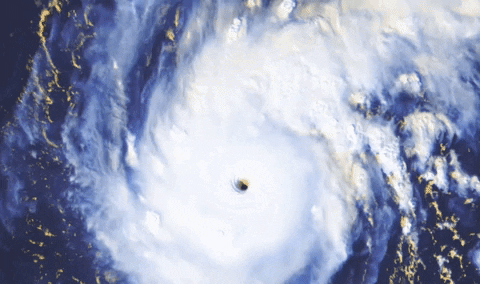 Typhoon continues its movement near 16.3N 131.6E over warm waters of the Philippine Sea. Warm environment is very favorable condition for further intensification. Forecasts predicts Goni to maintain a Category 5 strength over the next 36 hours.
Landfall is predicted on early Sunday in central Luzon and could be potentially destructive.
Update: 29th of October, 9:00 a.m. UTC
Goni (local name Rolly) has strengthened into a typhoon. Currently located near 16.8N 135.8E, east of Manila, Philippines, Goni is moving toward the west-northwest at 17 km/h (9 KT) speed.
Maximum sustained winds are near 130 km/h (70 KT), with gusts near 157 km/h (85 KT).
It is expected that Goni will move generally westward by Saturday evening, then west-northwestward by Sunday as it moves towards Quezon – Aurora area before making landfall over the Bicol Region and Eastern Visayas this weekend Sunday morning.
It is forecasted that Goni will intensify into typhoon Category 3 while moving over the Philippine Sea. As it moves towards eastern sections of Central and Southern Luzon, it may bring heavy rains over these areas starting this Friday.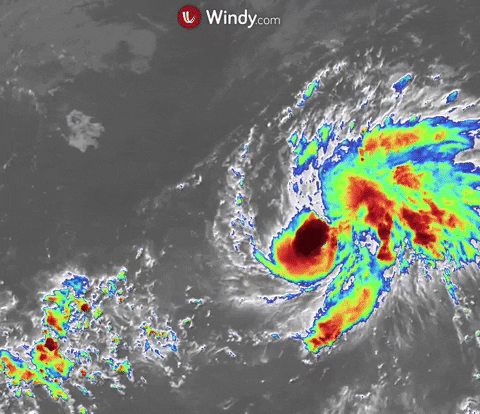 https://www.windy.com/-Wind-accumulation-gustAccu?gustAccu,14.998,114.554,6,internal
posted in Articles